Description

TP6 Multifunctional Test Platform
The TP6 is a compact, modular OTDR platform that allows for the "stacking" of up to three modules, providing a multitude of customizable configurations. Specifically designed for LAN, WAN FTTx and PON applications, the use of "Plug-and-Play" modules allows the TP6 to meet all of the test requirements for installers, contractors and service operators, performing network installation, service activation, maintenance or troubleshooting.
Some of the available features include an OTDR, Stabilized Light Source, PON Meter, Power Meter and Video Inspection Probe (VIP). An 8.4" TFT touchscreen display, with an intuitive onscreen interface makes operation quick and efficient.
Sold, Serviced and supported in the USA, the TP6 comes standard with a 1-Year manufacturer's warranty, as well as Li-Ion Battery, AC/DC adapter and carrying case.
Optimized Platform Performance
● 8.4" TFT Touchscreen (800×600)
● Li-Ion Battery w/AC Adapter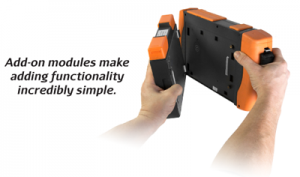 ● Optimized Power Management: 7 Hours of Continuous Operation
● Fast Boot-Up and Windows CE Operating System                                                                                
Available Test and Inspection Modules
● VIP
● OTDR (with VFL)
● PON Power Meter (1310/1490/1550nm)
● Optical Power Meter
● Stabilized Light Source
Design Your Modules
A "Plug-and-Play" module can accommodate up to four individual test
instruments. At the time of ordering, simply tell us which instruments
you need and they will be built into the module.                                                        

Add Modules Later
If you desire, you can always add modules at a later time for greater functionality.
The platform will accommodate up to three modules, stacked back-to-back.
To add additional test instrument functionality, you can either send
us your original module for customization, or you can simply order
another module and plug it into the back of the platform. Simple!
TP6 Standard Package Includes:
TP6 platform, Li-Ion Battery, AC/DC Adapter/Charger, Rubber Boot and Soft Carrying Case.
 Download TP6 Multifunction Test Platform Product Spec Sheet (PDF)