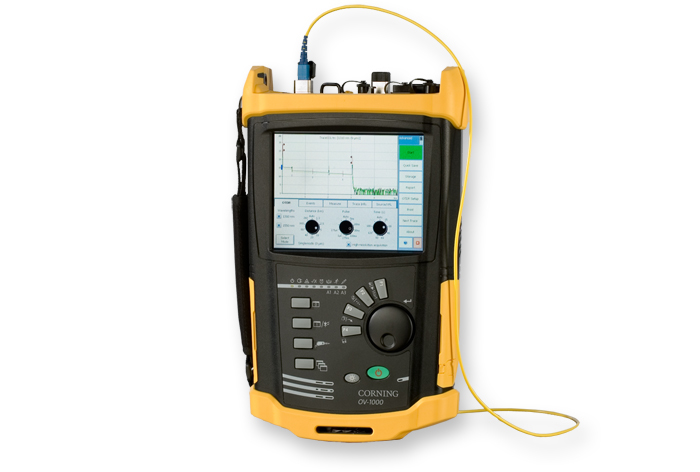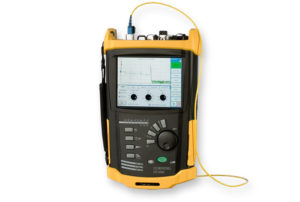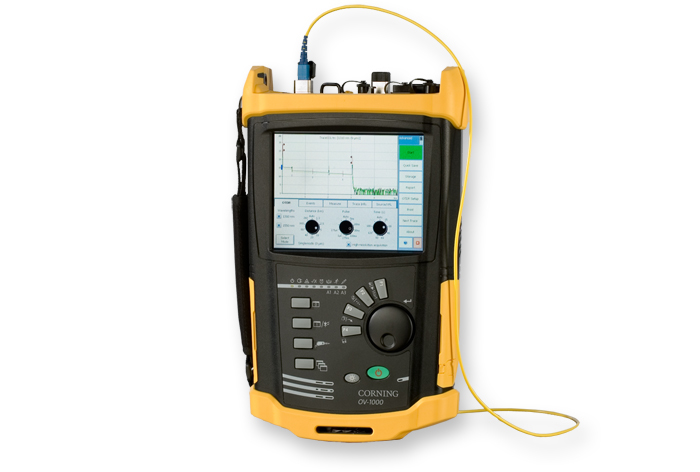 Corning Cable Systems OV-1000 Optical Time Domain Reflectometer
Corning OTDR (OV-1000) provides testing flexibility by combining a rugged platform with field-interchangeable multimode, single-mode and advanced testing modules. Designed for testing and troubleshooting of LAN, Telco, CATV and FTTx networks, all OTDR modules can be used as continuous wave (CW) light sources. A power meter and visual fault locator (VFL) are available as options on the mainframe. The Corning OTDR OV-1000 utilizes Windows® CE technology, which allows for a fast power-up time of four seconds from sleep mode. The Corning OTDR OV-1000 also has an 80 MB internal flash memory that typically stores up to 1500 traces and eliminates the need for a hard drive, which can fail under extreme field conditions.
For extra storage capacity, the unit offers USB A/B ports and a compact flash slot for portable file transfer. The Corning OV-1000 OTDR product line offers a wide variety of multimode and single-mode modules and has the capacity to hold up to two modules at the same time. Modules can be easily switched out in the field in just a matter of seconds, without the use of tools. The Corning OTDR OV-1000 has a touch screen keyboard that eliminates the need for an external keyboard and the rugged, splash-proof mainframe allows for testing in harsh conditions. The 6.4-in color touch screen is resistant to shock, water and most common chemicals used in the field. It is large enough to view both the trace and the event table simultaneously, which eliminates the need to toggle back and forth between the two. The unit accommodates up to two field-interchangeable modules, which eliminates the need to change modules as often and offers instantaneous AutoSync USB making it easier and faster to transfer files and perform software upgrades. Along with offering three OTDR test modes — auto, advanced and template trace — the OV-1000 is future-ready with the ability to accept protocol testing modules, such as Gigabit Ethernet. Note: This test equipment is classified as a category 9 item under RoHS (Directive 2002-95-EC) and is exempt from the restriction.